Food Service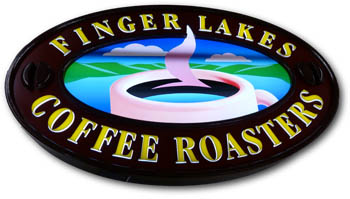 FINGER LAKES COFFEE ROASTERS:
This is an example of a panel face that we did for a light box. Although we do not do light box building ourselves, we can make panels for them. This had routed acrylic with a routed aluminum composite panel over it with a digital print on see through material added to the center.

OTTO TOMOTTO:
This super long signage for the new indoor location of Otto Tomotto's was actually 2 sign panel lengths joined in the middle and covered by the graphic embled which was raised and painted as well. It features painted carved and vinyl elements.
THE PUB AT WEGMANS:
This is a example of a pretty complex dimensional sign made of HDU. It has about 3 levels some carved into the material some added on top.